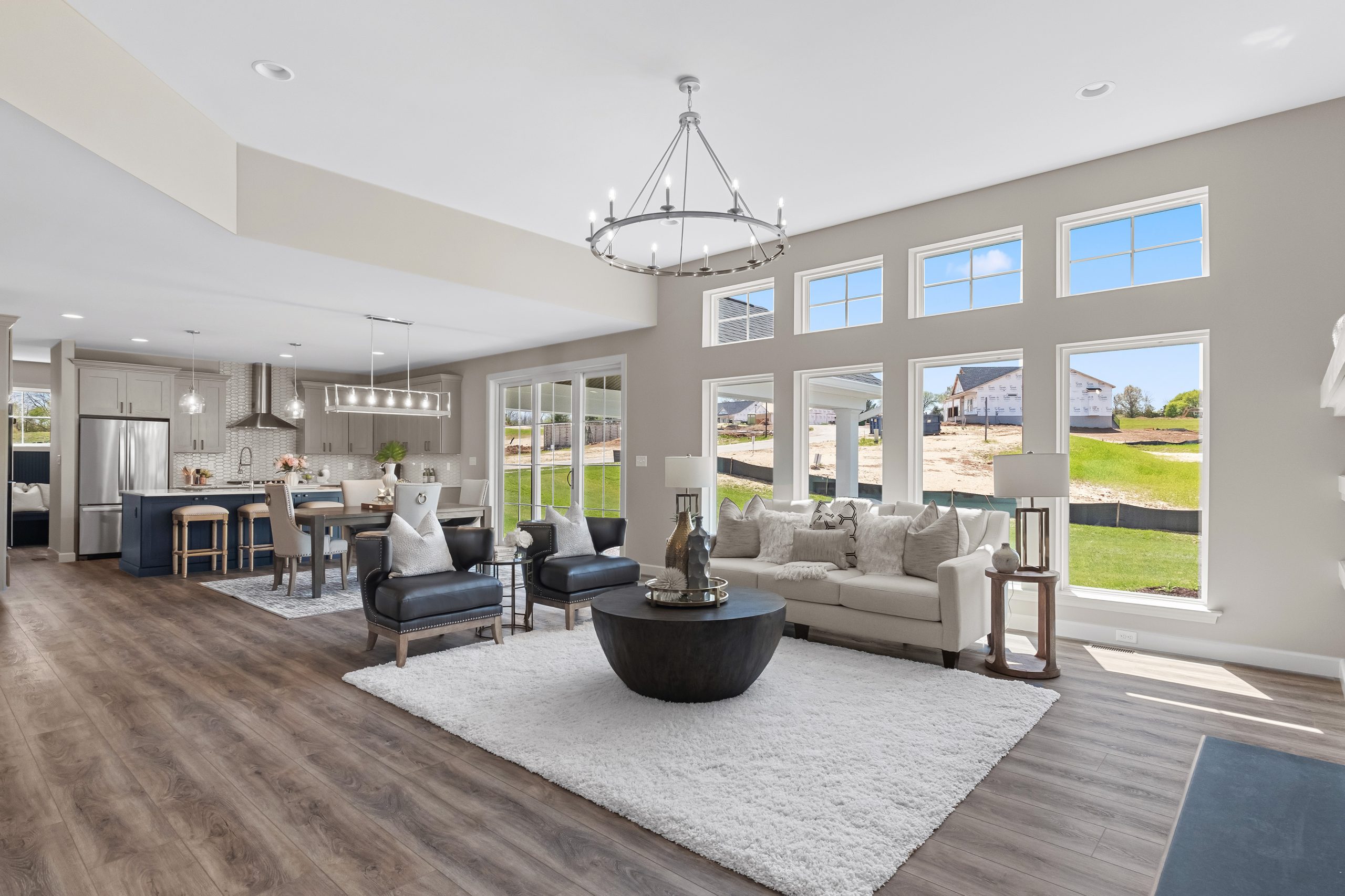 Why Buy a New Home?
This might surprise you. Newly built homes are a much better value than pre-owned homes. While the purchase price of a pre-owned home may be lower, the value of a new home is higher in the long run. New homes have lower utility bills, lower maintenance costs, greater increases in home value, and more. Let's break it all down.
1) Energy Efficiency
Today's new homes are better than ever due to advances in home building materials, products and technology. New homes are more durable, and cost less to heat and cool than pre-owned homes. And, since the homes and all their components are new and under warranty, they will deliver many years of low- or no-maintenance cost service.
At Fischer & Frichtel, we ensure that our homes meet today's highest standards of energy efficiency by combining our proven building methods with the following innovations:
Tight construction framing techniques, continuous air and moisture barriers, and the sealing of penetrations help reduce internal leaks and drafts.
Improved thermal systems and enhanced insulation minimize voids and gaps and add to energy efficiency.
Right-sized heating and cooling systems and sealed air ducts help equipment work most efficiently.
Low-E (emissivity) windows have protective coatings to help keep heat in during winter and out during summer.
Energy-efficient lighting, with at least 60% of all hard-wired lights being compact fluorescent or LED, reduce overall home energy consumption.
Energy-efficient appliances, including ENERGY STAR® qualified dishwashers and efficient water heaters help conserve energy.
High efficiency faucets, showers and toilets conserve water and help reduce overall internal household water consumption without compromising performance.
2) Lower Maintenance Costs
When you buy a pre-owned home, you can only hope that a one- or two-hour home inspection will reveal whether the home and all of its components are in good condition. An inspection is also just a picture of the home at that time. Other issues are bound to reveal themselves after you move in and you will end up with the expense and inconvenience of costly repairs and remodels.
Have you looked at the cost to repair or replace a roof or HVAC system lately? How about the price of a kitchen or bathroom remodel? While the price of a newly built home may be a bit higher, it's a bargain when you think about how much you would spend on all the items you will have to repair, replace and update within a few years of purchasing a pre-owned home.
New home owners love the peace of mind their homes give them. Instead of tackling repair and maintenance projects, and working extra hours to raise money for them, they spend their free time with family and friends doing what they love. When today's savviest home owners get the itch to remodel their kitchens or bathrooms, they just build a new home. When they move in, their kitchens and bathrooms are brand new, just what they wanted, the cost is built into the mortgage, and it's all under warranty.
New home warranties cover it all: the structure, the systems, the appliances, flooring, windows, and more. Most of them allow owners to address any issues or concerns they have with the home for up to one year, and cover the structural components for up to 10 years. Fischer & Frichtel's homes are covered by a 10-year limited warranty through RWC (Residential Warranty Company). The program also includes an additional, unique advantage: during the first and second year, claims are managed by Fischer & Frichtel and/or the contractors who built the home.
3) Healthier Indoor Air Quality
The health and comfort of your indoor environment is important, especially if you or your family members have issues with asthma, allergies, or other health conditions. The windows, doors, HVAC systems and insulation installed in today's homes are designed to ensure that the home is draft-free, with much better indoor air quality. At Fischer & Frichtel, other components we use to ensure the health of our homes include:
Ventilation systems deliver filtered fresh air to help reduce dust, odors and indoor contaminants for improved indoor air quality.
Combustion appliances in conditioned spaces are vented to help avoid build-up of carbon monoxide. Vent-free fireplaces are not allowed, and CO detectors are required in all homes.
Enhanced quality air filters provide extra protection from contaminants.
Paints with low levels of VOCs (Volatile Organic Compounds) reduce indoor pollutants.
Cabinets constructed from composite panels meet the standards of the Kitchen Cabinet Manufacturers Association Environmental Stewardship Program and the Composite Panel Association Environmentally Preferable Product Specification.
4) A Great Investment

Innovations in home building have significantly improved the durability of today's homes. Extra bracing and framing anchors help homes better withstand extreme weather. New types of trusses have made roofs and floors stronger and quieter. The use of more durable, low-maintenance building materials also helps conserve natural resources, and many home builders are using materials from sustainable resources with recycled content.

When the times comes to sell your home, the newer, more durable, energy efficient, healthy and comfortable it is, the more it will be worth and the easier it will be to sell. There is great value in sturdy, quiet, temperature-controlled homes with improved air quality and lower operating and maintenance costs.

5) Exactly What You Need & Want

New home buyers make choices, while pre-owned home buyers make compromises. When you build a new home, you are able to select the design, features and finishes that meet your needs and desires, not those of the previous owner.

At Fischer & Frichtel, our buyers love open floor plans that simplify and enhance their living and entertaining experiences. They like quiet studies that make it easier to work from home. Some want the master bedroom near a young child's bedroom, others prefer it to be located a comfortable distance from the guest bedrooms. Our buyers also love media rooms, large storage spaces, extra-large closets and advanced electrical systems to accommodate high tech computer equipment and appliances.

Building a new home gives you to the ability to have those things. Fischer & Frichtel offers a wide variety of floor plans with an impressive number of features included in the base price. Buyers are also given the opportunity to include options such as alternate kitchen layouts, room expansions or additional bathrooms. Each buyer is paired with a Home Center design consultant who collaborates with them to choose from a large selection of features and finishes, including the latest in designer cabinets, state-of-the-art appliances, high-performance surfaces, premium flooring, high-tech lighting, and more.

6) The Joy of New Home Ownership

It feels wonderful to know that your home was built just for you, to your specifications, and that no one has lived there before you. Choosing a new home community, selecting a floor plan, personalizing your home with your ideal features and finishes, and watching it all come to life can be one of the most rewarding experiences you will ever have.

When you work with a highly experienced, skilled and talented team like the one at Fischer & Frichtel, they will provide you with expert guidance, in-depth communication and one-on-one support throughout the entire process and make sure the home they build for you is just what you wanted, and will feel honored to do it.

If you are ready to begin your new home journey, please contact Kim Kelly at 314-283-6510 or kkelly@fandfhomes.com. If you would love to have a new home but don't have time to build, please let her know. We sometimes build homes from our most popular floor plans and offer them for sale as Move-In Ready homes. The locations, floor plans, features and finishes are hand-chosen by our community sales managers and Home Center designers based on what customers say they want most.

Thank you for reading our blog. We appreciate your interest!

Tags: Newly built homes are a much better value than pre-owned homes.