Have you been thinking about buying a new home? At Fischer & Frichtel, we offer a wide variety, from master-planned communities, to carefree lifestyle homes, to lavish luxury estates. So, whether you are a young professional, empty nester, or have children, we are certain to have the perfect home for your lifestyle.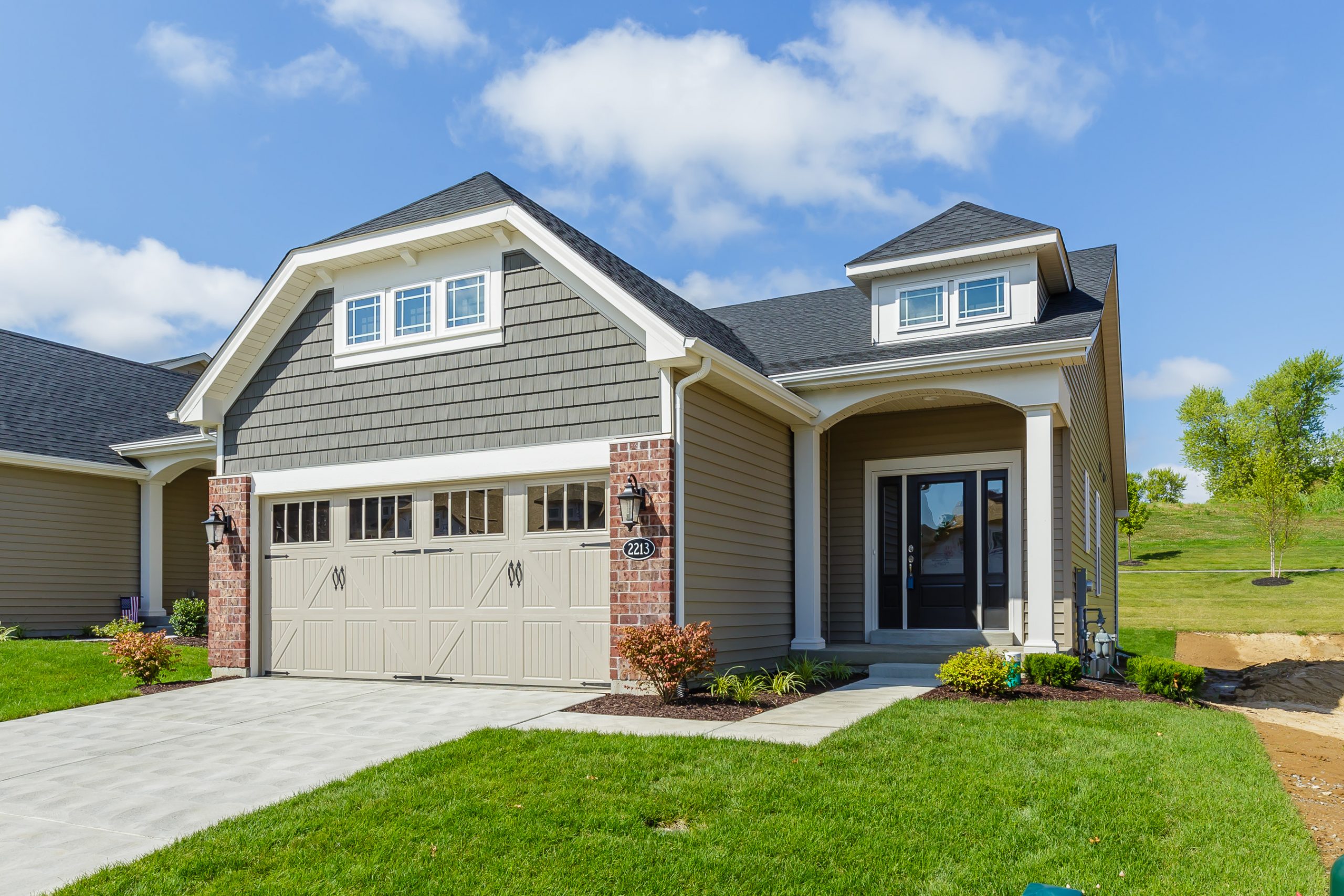 1. Villa
Many people are not sure what a villa is, or what makes it different from other homes.
Description: Villas are modestly sized homes which are uniform in color and have full-service grounds maintenance included in the homeowners association fee. In most villas, there are two bedrooms on the main level. At Fischer & Frichtel, villa buyers are also given the option to finish the lower level for even more living and entertainment space. Buyers can add a bedroom or two and a full bathroom to accommodate children, roommates or guests.
Benefits: Many home buyers choose villas for the appeal of the carefree lifestyle. Since lawn care, landscape maintenance and snow removal services are provided, you will never have to worry about the condition of your yard—or your neighbor's. Because of this, as well as the uniformity in design, these neighborhoods tend to look beautiful and well-groomed for decades.
Suited For: Villas are well-suited to empty nesters and busy professionals, especially those who travel often. However, not having to worry about lawn care, landscape maintenance or snow removal is huge benefit for everyone. That's why Fischer & Frichtel developed it's Vista Lifestyle™ Communities, which include villa-style ranch, 1.5-story and 2-story floor plans with full-service grounds maintenance provided. These homes are great for individuals and families in any stage of their lives!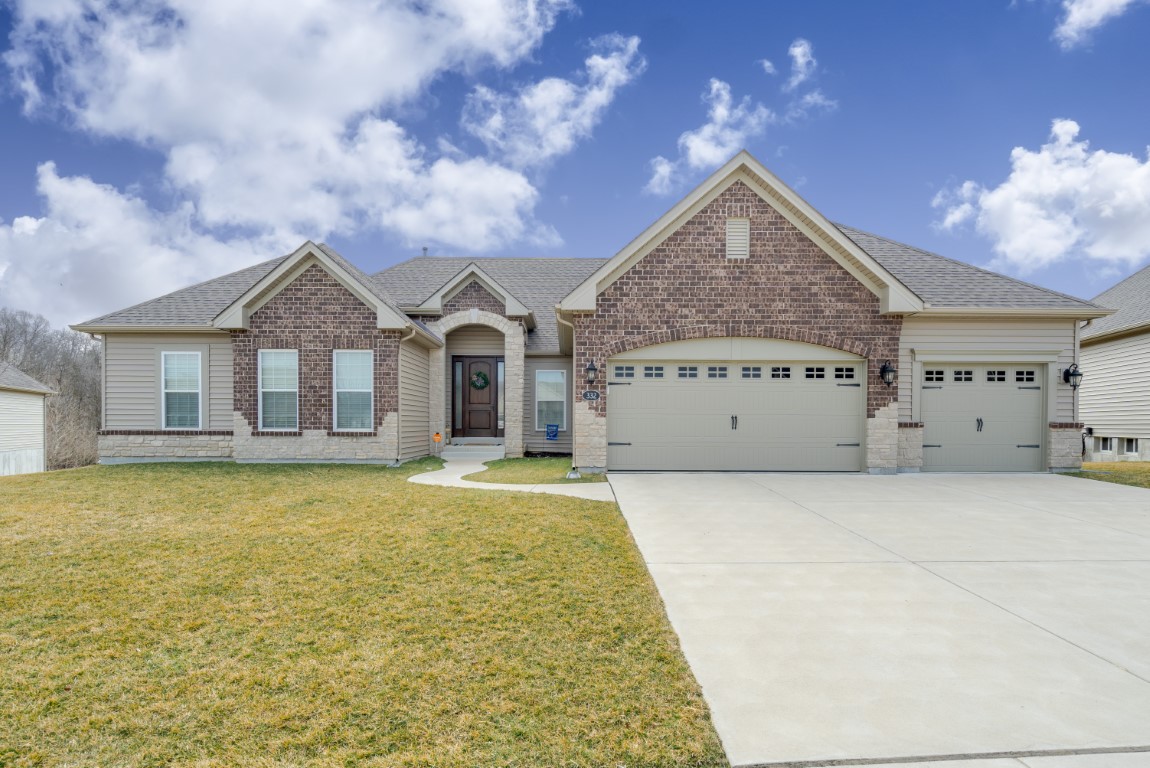 2. Ranch
Ranch-style homes are becoming more and more popular with home buyers year after year, and it's easy to see why.
Description: Ranch-style homes allow owners the convenience of living on one main level. If you are interested in adding more activity and entertainment space or private guest quarters, Fischer & Frichtel can also finish your lower level during the build. In standard ranch-style floor plans, all of the bedrooms are positioned on one side of the home and the living spaces on the other. In a split ranch the master suite is on one side of the home, and the guest bedrooms are on the other, with the living spaces in between.
Benefits: Ranch homeowners enjoy not having to walk up and down stairs each time they visit the bedrooms. Ranch homes are available in a wide range of sizes to suit your lifestyle. Fischer & Frichtel open concept ranch floor plans, which are perfect for entertaining and family gatherings, have become legendary throughout the St. Louis region.
Suited For: Ranch style homes are popular with buyers in all walks of life, including families with children, single professionals and empty-nesters. They are a great option for those who are downsizing from a larger 2-story home, yet large families can also upsize them to include five or six bedrooms. No matter the size of your family, a ranch-style home is sure to fit your needs.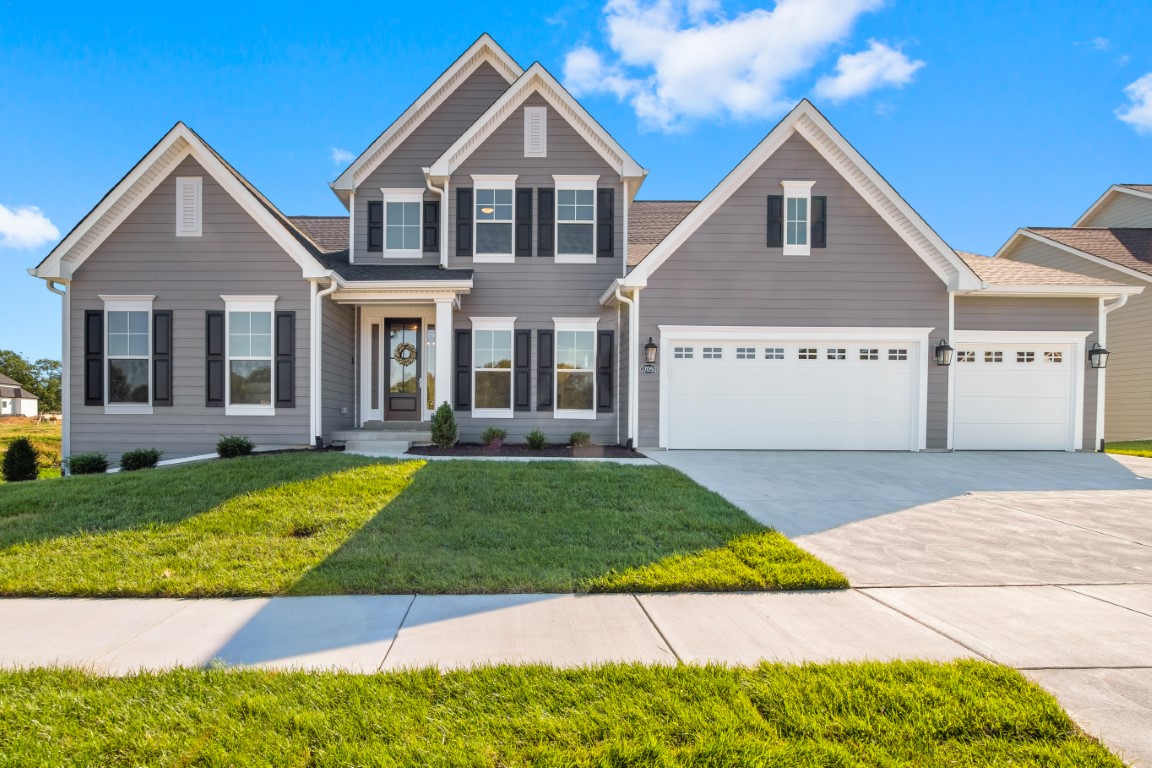 3. 1.5-Story

1.5-story homes are a wonderful combination of space and functionality.
Description: In a 1.5-story floor plan, the master suite is on the main level, and the guest bedrooms and additional living space, such as a loft, are on the second floor. Some of Fischer & Frichtel's 1.5-story floor plans include customization options such as a secondary master bedroom, princess suite, or a Jack & Jill bathroom. For even more living and entertainment space or guest quarters, the lower level can be finished as well.
Benefits: Owners of 1.5-story homes enjoy having the master suite on the main level near the activity and entertainment spaces, and the rest of the bedrooms on the second floor to allow for separation and privacy for children or guests.
Suited For: Not only is this home perfect for families with children, it also suits singles and couples who want the master suite on the main level, and private spaces on the second floor for offices or guests.
4. 2-Story
2-story homes are for buyers who prefer a strong separation between the bedrooms and the activity and entertainment spaces.

Description: The entire main floor in a 2-story home is dedicated to activity and entertainment spaces, while the second floor is reserved for the master suite and guest bedrooms. Fischer & Frichtel offers 2-story homes in a range of square footage options. In most of our 2-story floor plans, there are also bonus rooms on the second level, such as loft spaces. Customization options include a second floor laundry room or additional bedroom instead of loft space.

Benefits: The most notable benefit of a 2-story home is the separation of space. Since all of the bedrooms are located on the second level, there is a natural privacy and sound barrier from the first floor. 2-story homes also maximize square footage for the investment. As with all of Fischer & Frichtel's homes, the lower level may also be finished to add guest quarters or even more living or entertainment space.

Suited For: 2-story homes are great for families with children, or anyone who prefers their bedroom and living spaces to be completely separate. This is helpful when family members have differing schedules. It allows them to use activity and entertainment spaces freely without disturbing others who may be sleeping.

No matter what your lifestyle, Fischer & Frichtel has the perfect home for you. Visit www.fischernewhomes.com for more information about our new home communities and Move-In Ready homes. Or, if you have your own property, we can build a home from our portfolio on your land! When you visit our website, make sure to look at our collection of floor plans, take a 3D virtual tour, and play with our Interactive Design Tool. If you have questions, please feel free to call New Home Specialist, Kim Kelly, at 314-283-6510.

Tags: