Today's 10 Hottest New Home Features
The state of the world we live in has caused some people to drastically change their lifestyles. Spending more and more time at home has led many people to reevaluate what features they find important in a home, and has led some to build new homes in order to achieve the perfect place to work, relax and unwind.
Following is a list of the top 10 features Fischer & Frichtel home buyers are selecting most. For 75 Years, the name Fischer & Frichtel Homes has been synonymous with quality and superior craftsmanship. This, coupled with the fact that its customers are provided with an excellent purchasing experience is why the company has been named Best Home Builder multiple times in St Louis and St. Charles Counties!
1. Home Offices
In a modified world, office space is necessary for conducting business. And since so many more people are working from home these days, the home office has become a must-have. A comfortable home office in an isolated space can help separate work life from home from life when the lines could otherwise blur.
2. Enclosed Decks and Patios
A screened or enclosed deck or patio allows homeowners to relax and enjoy the ambience of the outdoors while staying protected from the elements. Additionally, it provides a great place to and invite guests for a socially distant get-together. This is why a comfortable outdoor living space has become a popular enhancement option for many of Fischer & Frichtel's home designs.
3. Family Foyers
The family foyer (which some may refer to as a "mud room") is a space designed specifically to hang or drop items you'd rather not bring further into your home. Typically positioned off the garage, these spaces serve as the designated space for your jackets, shoes, bags and more! Further customization may be made with the addition of cubbies and cabinets and serve as the extra storage space some homeowners really need.
4. Entry Foyers 
Entry foyers provide a transition from the front door to the living spaces in the home. To put it bluntly, they prevent someone who is standing on the porch from seeing right into your living room! A beautiful entry foyer also provides a statement to visitors about the unique style of your home. In addition, it can provide a space for commonly used items such as coat hooks, umbrella stands and places to drop keys in a convenient location.
5. Quartz Countertops
Quartz is a form of engineered stone which has a depth that can't be produced with solid surface materials like Corian. It also allows for a much wider range of colors than natural marble or stone, such as granite. People love it because it is as durable as granite, but has a softer feel and is more forgiving—it won't crack or chip as easily. And because it's non-porous, it resists stains from oil, tomato, coffee and other tough stain sources.
6. Board and Batten Siding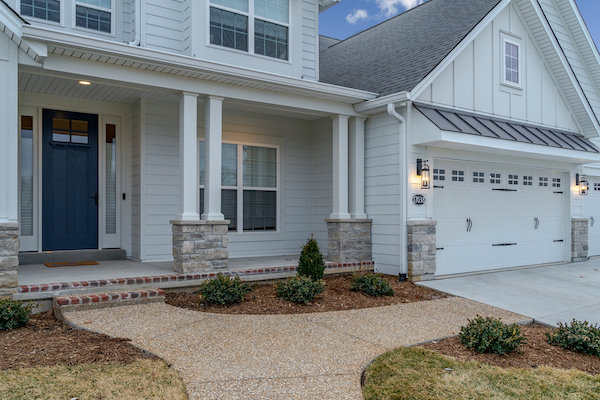 As you may have seen, homes with board and batten siding are over Pinterest boards and Instagram feeds. The style actually dates back about 200 years, and like many trends, is experiencing a resurgence. Companies like James Hardie have updated the materials and colors, which home buyers are finding hard to resist.
7. Walls of Windows
A dramatic wall of windows is a signature Fischer & Frichtel design element that has withstood the test of time. This feature fills the home with an unmatched amount of beautiful natural light. When the light spills into these open spaces it creates an inviting, warm environment that people love. It's a difference not only seen but felt, and one you'll never get tired of seeing.
8. Owner's Suites on the Main Level
Main level owner's suites are becoming more and more popular for many reasons. If the guest bedrooms are on the upper level, as they are in a 1.5-story home, main level owner's suites provide a welcome distance between the guest or children's rooms. They're also ideal for those who can't climb stairs because of an injury or mobility issue. In addition, close proximity to the main areas is convenient when multi-tasking in the kitchen or laundry room.
9. Bonus Rooms/Rec Rooms
Bonus rooms and lower level recreation rooms provide your family with endless possibilities for relaxation and entertainment. Several Fischer & Frichtel plans include or have the option to add a large second-floor bonus room, which may be used as a playroom, game room, second living room or work space. In a ranch-style home, a finished lower level recreation space is ideal for this purpose. Homeowners are using these flexible spaces for TV watching or entertaining friends and family.
10. Homes with Groundskeeping Included
Detached villas are perfect for empty-nesters, busy professionals and young families on the go. They offer the perfect balance of functional space and ease-of-living. Residents of Fischer & Frichtel Vista Lifestyle™ Communities can throw away their lawn tools and get ready to spend their free time traveling or with friends and family. They never worry about lawn care or snow removal again, because groundskeeping services are included in the monthly homeowner's association fee.
Discover the Fischer & Frichtel Difference
Visit the website to learn more about the options available to buyers of F&F homes. It contains a number of shopping tools that make finding the home of your dreams and the purchasing experience easier than ever. And, you'll be impressed at how hard we work hard to maintain our principles of integrity, innovative design, superior quality, and our unparalleled level of customer service. If you have questions or would like help determining which F&F home or community is right for you, please contact our New Home Specialist, Kim Kelly, at 314-283-6510.